annual offering for world mission broadcast
Giving to World Mission Broadcast provides the means to reach millions around the world for Christ, providing the funding for program production, airtime, and follow-up materials.

During this past year, we have seen fear, heartbreak, loneliness, and anxiety riddle our world. Now more than ever, we hold on to the connections all around us, strengthening our sense of community. Thanks to today's technology we are able to connect with others worldwide and broadcast for the better. Now more than than ever, it is time to refocus and share the message of hope in Jesus. World Mission Broadcast desires to create a place for people across the world to connect with each other in a time where it is needed now more than ever. We are reaching beyond borders and barriers to share the light of Jesus in the dark corners of our world.
Native American Christian Academy (NACA) 2021 - Aug 7-14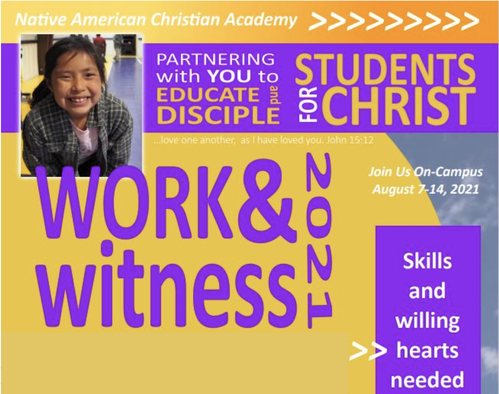 We are excited to announce a Work and Witness mission trip to Sun Valley, AZ Aug. 7-14 at the Native American Christian Academy.

Anybody who is interested in going or may have questions regarding the trip Please contact Larry Howe llhowe2@gmail.com

We are very excited to return to NACA to complete projects that have been shutdown due to COVID-19. One of our ongoing projects is engineering a fix for a dorm that appears to be crumbling at it's foundation.